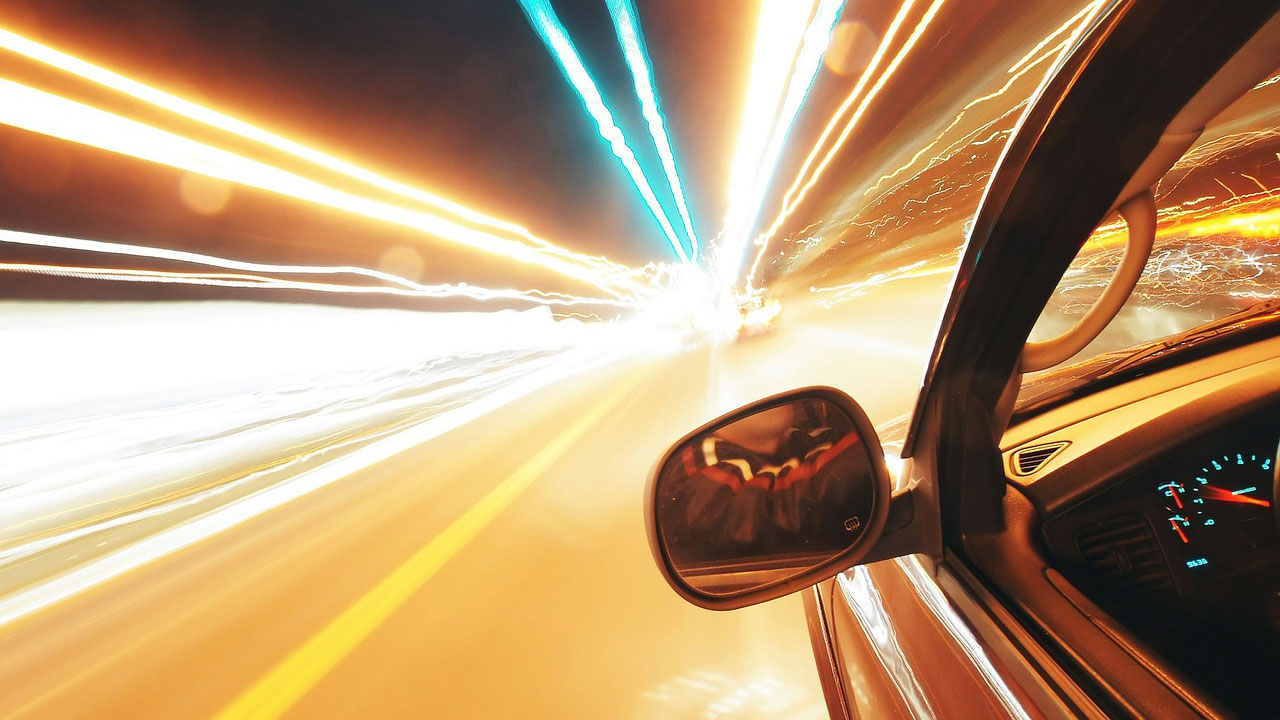 Stricter emissions standards, electric charging stations on every highway and falling battery prices mean two of three cars sold globally in 2030 will be electric vehicles (EVs) or hybrids, according to a new global report from Morningstar.
Subsidies and regulations in Europe and China will drive adoption until 2025, when EVs and hybrid trucks will equal or beat their combustion engine equivalents on cost and range.
Consumer demand will then help EVs to 30 per cent of global auto sales by 2030, up from 3 per cent today. Hybrids will add another 37 per cent.
Morningstar's forecast is nearly 10 per cent higher than the consensus estimate, but senior equity analyst and EV specialist Seth Goldstein expects "massive growth".
"Battery electric vehicle adoption grew in 2020 despite the COVID-19 pandemic, while global auto sales fell 15%," he says.
"The market questions whether growth is sustainable without subsidies. We think it is."
Emissions standards and charging stations
Government policy around emissions standards and charging stations will do the heavy lifting in the first half of the decade.
In Europe and China, regulators are steadily ratcheting up pressure on automakers over emissions. China already regulates automakers with a credit system that penalises building combustion engines.
European standards today require the average emissions per car to be equivalent to that of a fuel-efficient car. By 2030 this will tighten to the level of a plug-in hybrid.
In the US, the loosening of the Obama administration's already weak standards under Trump means the country has lagged in the use of emissions standards to drive EV adoption.
US carmakers are still moving ahead, with GM (GM) declaring its ambition to sell only zero emissions vehicles globally by 2035. This May, Ford (F) announced US$30 billion in EV spending through 2025.
Global EV adoption will also receive a boost from plans to accelerate the rollout of charging infrastructure.
A lack of charging infrastructure is the "number one barrier" to EV adoption right now, says Goldstein.
The Biden Administration's recent American Jobs Plan contained a proposal to build 500,000 EV charging stations on US highways.
"Previously, we thought road trip anxiety would be an issue in the US that would limit long-term adoption, given the lack of charging infrastructure," says Goldstein.
"However, this plan would nearly alleviate road trip anxiety in the US, boosting long-term EV sales."
China and the EU have been rolling out charging infrastructure more aggressively. China had 800,000 stations at the end of 2020.
While Goldstein expects enough chargers in all three regions by 2025 to support EV fleets, the issue remains a "wild card" for the pace of adoption.
In Australia, political battles have stymied a Federal approach and EV adoption has been slow at only one per cent of new car sales last year.
NSW and Victoria announced policy incentives in this year's budgets including the scrapping of stamp duty for EVs under $78,000 in NSW and $3000 rebates for the first 25,000 vehicles sold under $68,000.
Entry-level EVs will be cheaper than internal combustion engines (ICEs) by 2025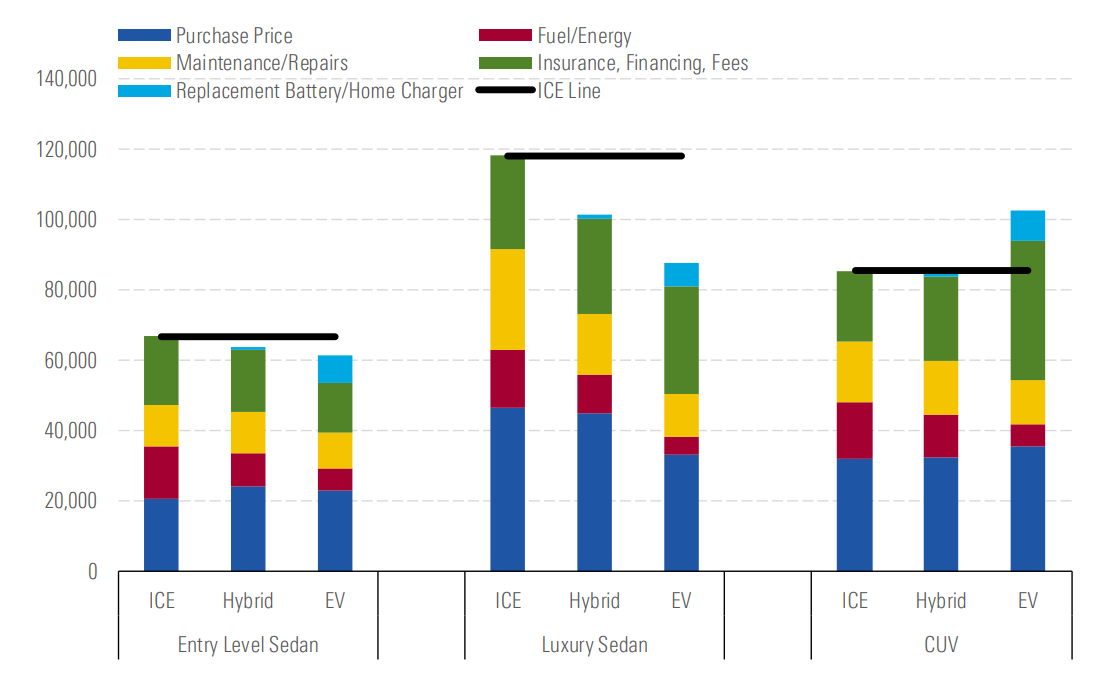 Source: Morningstar, Edmunds, US EIA, US DOE, GM, Toyota, Tesla, BMW, Clipper Creek.

Based on 15-year total cost of ownership; 2025 estimates
2025 is the "inflection point"
From 2025 mainstream buyers will begin to pile in, says Goldstein, as cheaper batteries and mass manufacturing make entry-level electric sedans cheaper than their gasoline equivalents.
"We forecast 2025 will be the inflection point when EVs and hybrids begin to see more rapid adoption in China, the European Union, and the US," says Goldstein.
These three regions account for 70 per cent of global auto sales annually.
In a sign of what's to come, electric options are already cheaper among luxury sedans, and Goldstein expects prices to fall further as batteries cheapen.
Along with the expansion of charging infrastructure, better range and faster charging are set to reduce the "road trip anxiety" many consumers feel.
Morningstar forecasts charging times will fall from 30 minutes today to 5-10 minutes from 2025, only slightly longer than the average gasoline refueling.
Today, one-third of EVs can travel at least 480km on a single charge. By 2025 Goldstein expects the majority of EVs will boast this range.
©2021 Morningstar. All rights reserved. The information, data, analyses and opinions presented herein do not constitute investment advice; are provided as of the date written, solely for informational purposes; and subject to change at any time without notice. This content is not an offer to buy or sell any particular security and is not warranted to be correct, complete or accurate. Past performance is not a guarantee of future results. The Morningstar name and logo are registered marks of Morningstar, Inc. This article includes proprietary materials of Morningstar; reproduction, transcription or other use, by any means, in whole or in part, without prior, written consent of Morningstar is prohibited. This article is intended for general circulation, and does not take into account the specific investment objectives, financial situation or particular needs of any particular person. Investors should consult a financial adviser regarding the suitability of any investment product, taking into account their specific investment objectives, financial situation or particular needs, before making any investment decisions. Morningstar Investment Management Asia Limited is licensed and regulated by the Hong Kong Securities and Futures Commission to provide investment research and investment advisory services to professional investors only. Morningstar Investment Adviser Singapore Pte. Limited is licensed by the Monetary Authority of Singapore to provide financial advisory services in Singapore. Either Morningstar Investment Management Asia Limited or Morningstar Investment Adviser Singapore Pte. Limited will be the entity responsible for the creation and distribution of the research services described in this article.